Thanks again for Night Owl Crafty for another round of Whooooooo Are you!!!!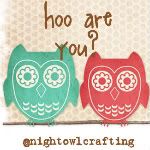 1. Do you wear glasses or contacts, if so for how long?
I wear both! I've been wearing contacts since about 1st grade I think and I started wearing contacts about 5th or 6th grade, i can't really remember. I've only recently really embraced my glasses wearing self 🙂
2. What was your favorite board game as a kid?
I remember really like the game of Life
3. What is a word that you use all the time?
When I was like in 4th to 6th grade my neighbor friend and I were the biggest dorks ever. He and I would play power rangers…but I digress…we used to say "heeheehee pshhhhhhhhh" i have no idea, we were so lame! LOL
4. What is your favorite day of the week?
Any day the husband is actually home, because its different every week, lol
5. Did you graduate high school from the town you grew up in?
I was homeschooled from 8th grade on, but yes we did live in the same town my entire life 🙂 its kinda like a real-life stars hollow, no joke 🙂
yay!!! for another week of Whoooooo Are You!!! Head on over to Jamie's blog and check it out! There are so many awesome things to see and learn!!!
And also, please enter my Zippy Doo's giveaway!!!!!!!!
COME BACK SUNDAY FOR MY BLOG HOP, SASSY SUNDAYS!!!!!