Hello all!! I have a brand new link-up that I discovered over at one of fav blogs to read daily, The Adventures of D and V. The link up comes to curtosey of My Beautiful Crazy Life, so make sure to catch up on the third Tuesday of every month.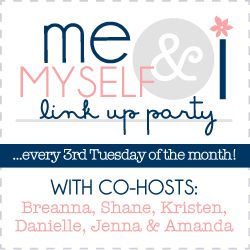 I really love link-ups like this, and finding new link-ups in general. Discovery all the amazing bloggers out there is really most of the fun of blogging, and I frequently get lost in reading emails and blog posts that other people have written and totally forget about my own blog! I know, I'm totally crazy but I'm not alone I'm sure. Thanks lovely ladies for a fun link up.
1. When you're feeling down, what do you do to pick yourself up?
I usually make some coffee, or hot chocolate (or some other yummy hot beverage) and grab a good book. A good book never fails to distract me from whatever I have going on. If I'm really in need of an intense pick me up, and I can escape the crazy, I will usually go out and do some retail window shopping or actual retail therapy.
2. If you had to live in a different time period, which would you choose?
For me that's a total easy one – the 40s/50s. I'm not too picky. I truly love the simpler time, where men were men and women were women…its so cliche and not very feminist of me – it is totally romanticized and probably 80% unrealistic..but maybe I could live in a movie in that time period of maybe a tv show. Maybe its just the hats? LOL. I actually have a lot of vintage hats and dressed up quite a bit in highschool in college. I also have a lot of vintage items I use in decoration.
This is me in high school at a fundraising event all dressed up!
3. What is the most creative Halloween costume you've ever worn?
Gosh, I don't know about creative. I never really dressed up and went to parties when I was older. One year I dressed up in one of my old prom dresses as a princess, and the hubby (then boyfriend dressed in some camo gear, which is a little prophetic don't you think, LOL). Two years ago I threw my first adult halloween party with one of my besties. I was a fairy and went all out with huge wings, colored eyelashes!
4. five weird things we wouldn't know about you without being told?
1) whenever slow songs or classical music come on the radio my brain starts choreographing something in my head! Its so ridiculous.
2) I'm totally OCD even though if you asked most people they would tell you I'm a super laid back, relaxed mom. I waaaaaayyyyy keep that on the down low, LOL
I'm not really sure about weird things…lol….I'm pretty boring I think
3) I'm such a grandma and I love to knit and crochet
4) I'm totally obsessed with books and have book shelves two deep
5) I'm also totally obsessed with romantic movies like Sleepless in Seattle, You've Got Mail and While You Were Sleeping – and annoying quote dialogue throughout the whole movie, especially with my mommy!
5. What would you tell your 16 year old self?
– Yes, this is the man of your dreams, and you don't have to worry about him going anywhere! You are one lucky girl!
– Don't stop dancing, even when you graduate high school and go into college, you'll miss it and will think about how you wished you had continued because finding a job teaching while moving around in the military will be way harder then it seems
-Being homeschooled ends up being so awesome and so many way cool opportunities will be coming your way in your junior and senior year!
With the man of my dreams, September 2011
Thanks for stopping by and make sure to let me know if you are following me and I will most definitely return the favor!!