Do you Etsy? Do you have a shop you'd like others to know about? Lets hop!! The rules are simple but its important that you follow the rules so that hopping is successful!
First off, grab our button and put it in your sidebar or blog post. This Hop Will Open at 9pm PST and will open every Monday Evening at 9pm PST and go thru Tuesday til Midnight! Unless I have an ovewhelming amount of people who would like to switch the hop day. If you would like to vote to switch the hop day vote here.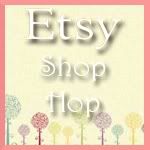 Rules:
1. You Must Favorite Your Etsy Shop Hop Hosts Lynhea Designs and RheChristine Designs.
2. Favorite Our Spotlight Shop Nimbler Grove
3. Favorite the Person above you and the person below you on the linky!
4. What you may link up: Your Etsy Shop, Your Etsy Facebook Page or a dedicated Etsy blog page or post. (If your link does not meet these requirements it will be deleted, not just any shop can link up, it has to be ETSY)
Thats it!!
* Signing up for my Etsy Newsletter lets you be entered to win a chance to be spotlighted next week!* (Signing up for my newsletter is not required to hop)
A little About Our Spotlight Shop:
"I started selling on etsy about 3 years ago when my daughter was born and I made her headbands, clips and bows and decided to open my 1st etsy shop. My friends and family started to ask me to design accessories for them and it was not long before I opened NimblerGrove in Feb on 2010. (NimblerGrove is an anagram for November Girl. Yes, I'm getting ready to celebrate my 30th birthday next month) I draw a lot of my inspiration from the 1920s, I love the flapper girls and their amazing style inspires me constantly."
Have fun hopping and the more you hop the more your Etsy Shop will be favorited! 🙂 Every Week you have a chance to Host this blog hop with me or possibly be spotlighted as a required entry to hop. Lets have fun hopping and seeing what everyone has to share!! I know I'm excited to look at your shops!!
Here's some more I take part in 🙂