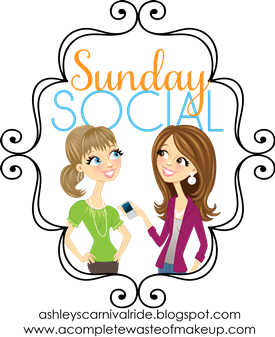 I'm totally late on this, as it is now 11:35pm on Sunday, but I've been behind in everything all day long! More importantly this just looked like way too much fun to pass up! Thanks to fellow MilSpouse, Morgan, over at Stars, Stripes, Military Life for introducing me.
So, the basics of how it works is that the lovely ladies over at Ashley's Carnival Ride and A Complete Waste of Make-Up, post some questions, we answer and link up. Fun! I really love these kids of things. Its a great way to meet some fellow bloggers and network. Plus, and most importantly, its just so much fun. Make sure to clink the button above and check out their lovely blog. I already can't wait for next week, where I promise to be prompt.
On with the questions:
1. How did you come up with your blog name?
Well, I started blogging in 2010 as a way to talk about my life, parenting, stuff I liked, military life…stuff I was already talking about anyway and people were always asking me questions and advice, which I totally hesitate in giving because I'm so shy (sarcasm, can you feel it dripping off your computer?). LOL. So I spent forever it felt like trying to come up with an adorable, military related name and this is what the hubbs and I came up with. I think its pretty cute.
2. What is your favorite thing about blogging?
I'm not going to be the only to say this, I'm almost 100% sure. The people that I've met and the fun I've had, winning things, giving away things, getting to write my opinion about things. Its just been a lot of fun. This year was like my mecca, because I got to go the MilBlogging conference and had so much fun!
Me and some fabulous mil-spouse bloggers at dinner!
3. What is one thing you have discovered because of blogging and now can't live without?
Gosh, I don't know. I guess these relationships and the experiences. That's a tough one!
4. Facebook or Twitter? Why?
Gosh, another good question! Facebook probably. I'm on it more and that's where the relationships are for me 🙂
5. If one Celebrity read your blog who would you want it to be?
I've always loved Kate Winslet and I think it would be so cool if she read my blog. If some really awesome political journalist or military person read my blog that would be so amazing too. I think Dana Perino is wonderful. At the MilBlogging conference I had some pretty awesome people retweeting some of my tweets and I was just thrilled to pieces!
6. What is one thing you want people to know about you and your blog?
Well, aside from that fact that I think it's pretty awesome, I want people to know that I put a lot of time into it, and that even those its mostly for me, its also for the people that take the time to read my blog even though there are a million and one (literally) other blogs out there.
Have fun and link up!