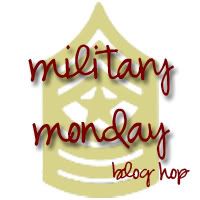 Well it's time for the Military Monday blog hop. I always feel compelled to come up with something fabulous, LOL, but seriously, who can get a jump on a Monday when you're trying to have fun on the weekend. The hubbs is heading out for several weeks this week, so that's kind of a bummer. And he's working all the way up to it so Saturday and Sunday were it. Brian will turn six while he is gone and then his parents come for a visit. So it will be quite crazy. In the mean time I will be trying to get the house together for their arrival, which includes trying to finish my first major DIY project. Another "seriously" goes off in my brain!
What you're staring at is table legs that have been repaired and are wrapped in plastic, a table – not attached to the legs – leaning up against the wall, and already freshly painted and reupholstered chairs waiting for the table and legs to join them and be all freshly painted.
As I was thinking of something fabulous to write I thought to myself, why not just write about this? It may not be super fab, or extremely profound in any way, but it's life. It's nothing spectacular or life altering. I read so many very fab and extremely profound blogs, at least to me. Usually I get all up in my head and get all "super girly" (not to be mistaken for Super Girl) and wonder why in the heck am I writing about this stupid stuff when there is so much more profound things going on? Yeah, I just used the word profound like three times in two sentences. But…..then I think, "I look for blogs of people going through what I'm going through." The normal day to day of the military life.
When we moved here we bought a ton of furniture – bunk bed, three bookshelves, couch, coffee table – I put them all together by myself. Now, I know plenty of mom's do this, and I'm not trying to toot my own horn or anything; but at least I can get a pat on the back. It's just life. It's my life. I chose it and I'm living it. I encourage all moms that live this life to own it man!! Most importantly though, don't get caught up in comparisons. So many women in general get caught up in comparisons. There's the parenting comparison,e working mom/SAHM comparison, the single mom comparison. For me personally I've experiencedthe branch comparison, the deployment comparison, the Guard/Reserve vs Active Duty comparison and the civilian vs military comparison. ALL are dangerous in my opinion. When we start comparing who has it harder, the 6 month or the 12 month deployment, that when we are missing the point. I mean, I've had easy and hard times. Does the mom with three kids have a harder time then the brand new wife that spent three weeks with her husband before he was shipped off? People have said to me, "I don't know how you do it? Being a military spouse is the hardest thing ever." Now, while I appreciate the sentiment and when someone spouts of about "what are military spouses complaining about, it's not hard," I'm the first to want to snap back at them. What about police officer or firefighter's spouses. While my husband might face dangerous situations for month-long periods, police man face potentially deadly situations every day! A traffic stop can turn into something more in the blink of an eye.
So don't get caught up in comparisons because it never leads anywhere good, have compassion for whatever situation your friends might be going through – weather it be two weeks of training which become a nightmare because you have an into everything two year old, a weekend training where the mom has to put together a bunk bed because her five year old just can't wait another second, a six month deployment, or just a regular work day that he can't miss even though you are as sick as a dog and there's a mountain of laundry piled up. This is our life, we have to own it. We live it so why not live it the best way you know how? Doesn't mean you have to wallow in it, nor should you hide your feelings because you know someone out there is dealing with something worse than you; there's always something worse.