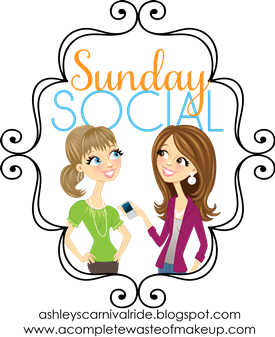 I'm such a purse girl! So I was super excited to have discovered that this week's Sunday Social is all about Purses! Whooohooo!!!!
If you're a new follower from this hop I'm so excited to have you here, I hope you follow me, and I will of course return the favor and try to get as many listed on the hop as possible. Thanks so much again for the fab ladies at Ashely's Carnival Ride and A Complete Waste of Make-Up for coming up with this fabulous hop!
1. What's your favorite handbag you've ever owned –
I've got to say my favorite was my Dooney and Bourke Tassle Tote. Sigh, I miss that purse. They eventually discontinued it because the creases on the edges of the purse kept fraying (poor thought process on the part of the designer in my opinion. They should have made it leather on the bottom). As a result, after having it repaired several times, they ended up having me trade it in. I should have kept it…and I kick myself because I loved it. sigh. But I still have some fav Dooney's in my collection.
2. What is the dream bag you lust over?
Well really what girl wouldn't want the classic Louis Speedy…me that's who. I would also love a bigger Dooney…I'm kind of a big purse girl and it would be nice with three kids, but none of the current patterns are my style.
3. What are some daily essentials you keep in your purse?
Mostly I make sure to have some lip gloss and lipstick, my nail file (to keep from biting my nails), my burt's bee's cuticle rub (does amazing tricks to keep you from biting your nails), a mirror, my camera, and a pad of paper to write stuff down (thanks hubby).

4. What's in your purse (With Pictures)?
well what om purse wouldn't be complete without some kiddie snacks and a couple toys. wallet, wristlet, and checkbook (cuz I'm 100), color lipgloss, chapstick, lipstick with holder and mirror, iphone and earbuds, oil blotters (that don't ruin my make-up – ridiculous humidity), camera is a must and benedryl because of the even more ridiculous bugs! LOL! but you caught me on a good and not super messy purse day!
My purse was a gift from my mama…love it. It's one of my summer purses that I pull out. I love it mostly cuz its pink.






have fun and link up!!!!