It's been a long week my friends and I am pooped! Nothing like a good Sunday Social to get the week offo a good start.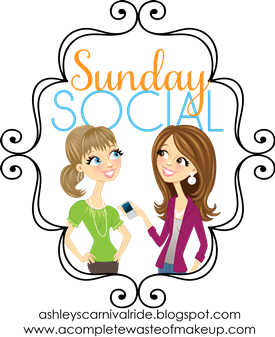 This week is another great line-up of questions, so join in the fun!
1. What is the first website you log into each day?
That would be CNN. We're a news sort of house here. The it's yahoo to see what all the headlines in all types of news are and check my email. boooorrrring!!! LOL
2. Seriously I think I'm totally boring. Maybe its because I have a bunch of children running around crazy. I don't have any funny sites that I go to. There's one that I used to visit often that was a photographer who was posting funny pictures of other bad photographers pictures.
3. Pinterest or Facebook?
I don't really spend a bunch of time trolling Pinterest. I don't even get on every day. So, for me Facebook probably. Although I love me some Pinterest.
4. Favorite You Tube Video?
6. Biggest online pet-peeve
For me definitely it would be OPSEC violations from people who should know better. Drives me absolutely nuts. But it's sort of a military specific thing, although we should all be careful about what we put out there.
Can't wait to read some more stuff from the other lovely bloggers, so make sure to check out Ashley's blog!
Also, check around for some giveaways and reviews on my site here! Thanks and have a great day!!
Yoga Mat Review
Cloth Diaper and Cash Giveaway – click the link for rafflecopter
Cloth Diaper Creams Review and Comparisons
Piper Read children's book Giveaway
Natural Children's Nasal Spray giveaway