Welcome to Sunday Social here at Cammo Style Love! A big shout out to our host Ashley at Ashley's Carnival Ride, one of my favorite link ups of the upcoming week. Ashley has a great blog any day of the week so make sure to check it out. A little housekeeping here – check out the notable posts over to the right, as well as the giveaway and review directory. I have a natural children's nosespray to giveaway (which is awesome, I've used it) and some great children's books (great for the military child, and non-military alike), so make sure to check out those links for the reviews and giveaways. I also want to thank everyone that voted for me at Circle of Mom's Top Military Blogs of 2012. This is the first year I was nominated, after almost three years of blogging, so it was just an honor. I finished at 35 out of 61. There were so many awesome blogs nominated and the ones that beat me out were so deserving of the honor. I've had one of them guest blog for me. Check out her post here and then check out the blog. Congratulations Lynn! Now, onto the fun!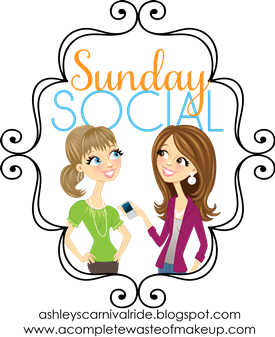 1. What were you like in Middle School/Jr. High
I've got to say that that time in my life wasn't all that bad. I was sort of a nerd in 7th grade. I was a "band geek", playing the flute. I had a lot of 8th grade friends, which one might think is cool..but when they're in the band, as far as the whole school is concerned it doesn't matter. LOL. My parents pulled me out of public school for 8th grade and beyond and I really came into my own in that time. Being a former public school kid it made for interesting popularity standards. I think to some I was pretty cool, because I was the unknown, new girl who had gone to the infamous public school. But to others I was not "homeschooly" enough and considered bad, if that makes any sense whatsoever. High school was where I met and got together with my future husband. I went to junior college in my junior and senior year of highschool, Did a lot of volunteer work, and worked on political campaigns. Lots of cool stuff. At the time, in the beginning at least, I wasn't very happy, but I look back on my time during those years of my life and am grateful that that is how things were.
with my daddy – I was about 14 or 15 here
One of my senior pictures, class of 2001
I think I was 13 here

16 with the hubby who was 18
2. What were my favorite past times
Back then it was reading, watching old movies with my mom, hanging out at the pool and doing anything that involved hanging out with my boyfriend.
3. What songs were you obsessed with?
I was a major Backstreet Boys fan! Major Major!! LOL. I also liked a lot of Christians music like D.C. Talk, Jars of Clay, Plank Eye, Newsboys, Michael W. Smith, All Star United, Carmen.
4. What fashion do you look back on and just cringe
Gosh, the bangs, the scrungi things for your hair, knee highs…oh man, do you remember knee highs and mary janes?
This is me with my sister (in the white tank – me in red) with my cousins. I was 12
notice the birkenstocks with white socks pulled up..totally a 90s fashion!
5. Celeb crush?
Oh man, well I think definitely the boys from Backstreet were high on my list of celeb crushes! I mean seriously, lets just all bask in the awesomeness of the late 90s, right?
Tom Cruise was pretty rockin' in the 90s and I remember thinking Freddie Prinze Junior was pretty darn awesome! of and Ben Afflec in Armageddon..I mean, come on people?!
6. What were your favorite tv shows/movies?
TGI Friday was definitely the place to be on a Friday night, for tv for sure – Full House, Family Matters, Boy Meets World
Movies I remember loving were She's All That, Matrix, Batman Returns (one of the best batman movies if you ask me), The Firm, A Walk To Remember, Armageddon, That Thing You Do I loved loved loved that movie! Emma, Pride and Prejudice, Sense and Senseability.