Once again its that time again. My very favorite time of the week, the Sunday Social with Ashely's Carnival Ride and A Complete Waste of Make-Up. These amazingly awesome ladies have been coming up with great questions and a great link-up for the past eight weeks. I've discovered so many wonderful blogs during this link up, so I'm really excited to see what I can find this week. Thanks ladies! While you're here, if you think I'm awesome, click on the Circle of Mom's button and vote for me. I've been nominated this year for Top 25 Military Family Blogs! This is my first year so I'm super excited. I'm also go some great reviews of up for FEMBODY Appetite Control Gum (surprisingly awesome) and some great book reviews as well, so check the link for the bookshelf up top. I'll also be unveiling my new layout soon! yay!!! And come back tomorrow as I'll be starting my posting all about my wedding, to commemorate my anniversary this week! Thanks for stopping by, and if you follow me let me know and I'll make sure to follow you back!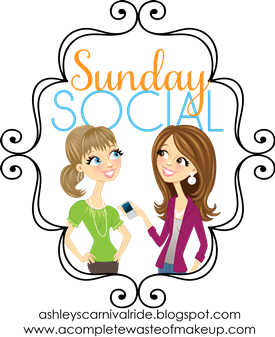 On to the questions –
1. If you could only eat one thing for the rest of your life, what would it be?
Oh gosh, that's hard…I think I could probably eat Subway for the rest of my life…does that count? LOL!
2. What's your guilty pleasure/comfort food?
In fact I just wrote a post about this, a review of something awesome. Soda is really my weakness.
3. What's the weirdest/craziest thing you've ever eaten?
I've had Calamari before, and trying Tai food a week or so ago, for me, was pretty awesome and crazy. I'm really not too wild I think when it comes to food.
4. What foods do you avoid at all costs?
most chucks of veggies, like onions, tomatoes, mushrooms…ick
5. What meal reminds you of your childhood?
pizza really does, because my dad makes a killer homemade pizza that I've been eating all my life, so that always makes me think about those times.
6. Share one of your favorite recipes and the story behind it.
This is one of my favorite, newer to me recipe…it is ridiculously complicated, but ridiculously easy, lol. I don't really have a story behind except for the fact that the first time I made it I melted the bottom of my blender on the stove top because I was running around like a chicken with my head cut off making it for the first time. I didn't have rythm and I had two little kids running around hungry. LOL
POTATO SOUP = the most amazing thing you'll ever eat 🙂
1 1/2lbs (3lbs) potato's, 1 3/4c (3 1/2c)
chicken broth
, 3/4c (1 1/2c) half and half, 1/2c (1c) sour cream, 1/2c (1c) cheese, 1/4c (1/2c) cooked crumbled bacon.
Combine potato's and broth, Boil, then simmer until soft. Transfer some to blender and blend until most is blended, leaving some chunky. Return to stove till boiling, then remove. Stir half and half, sour cream, cheese, and bacon. Salt and Pepper. Cook over low heat for 5min. Then enjoy =D