Happy Sunday Ya'll! The Cammo Love house is a little under the weather. I'm convinced it is this sudden change in temperature around here. I've always been a little sensitive to that, and now I think some of my little ones have inherited that. Phillip busy getting teeth so that's fun. But, ever my sweet boy he's still as happy as can be, full of snuggles and smiles.
So we are laying low today. I'm watching some History Channel, while Phillip is sleeping and the kids (after spending the good majority of the day inside) have ventured outside to get some much needed sunshine. In view of this momentary calm I'm jumping in and tackling this week's Sunday Social (my fav hop of the week). Just a little housekeeping – I've got several giveaways going on, so check that right side bar, as well as some Reviews in the Rhe's Bookshelf tab up top! Enjoy and have a great Sunday everyone. And, if you follow me today make sure to leave a comment and let me know and I will most certainly return the favor.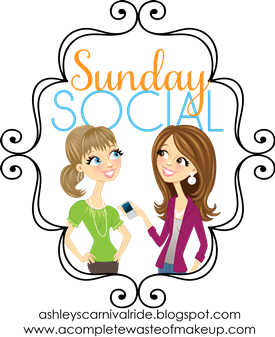 1. What are three items you can't live without during the day (water, food, shelter and clothes don't count)? My iphone, my contacts/glasses (like our amazing host I too, am ridiculously blind) and whatever good book I've got going at the time
2. What is your favorite book of all time, and why? Well, that is probably the hardest question ever?! How do I pick just one. There are so many that I love – ones from my childhood like The Bobsey Twins, Nancy Drew and Anne of Green Gables (all of them). Pride and Prejudice is really high up on my list. It is one of the books that I read over and over again.
3. What is something you'd like to accomplish by the end of 2012? I'm hoping to get close to my number of my 2012 Book Challenge with good reads. I'm less than halfway through it. Again, like last year, I totally overshot it. Last year, I became so sick with Phillip and then things just kept piling on top of other things – having Phillip, surgery, preparing for a cross-country move. This year, I've done a pretty good job, not as good as I would like but I'm trying. So if I can get close to that number this year I will be super proud of myself! I also want to get my sewing machine up and going and get my etsy shop up for my knit/crochet items up and going too.
4. If you could go back and relive any year of your life what would it be? I think it would be my 21st year. It was the year I got married, our honeymoon and almost the entire first year of my marriage was at 21. There was a pretty traumatic event that happened (which I talked about in my September 11th post), but even with that, it was a most wonderful year.

5. What do you wish people knew about you without you having to tell them? Gosh, that's a hard one. Sometimes I wish people knew that even though I'm busy, running around with kids and seemingly have it all together – I'm really just coping as best as I can…I'm alone a lot, maybe not literally alone, but like many military spouses, or spouses with husbands that travel a lot or work more than a regular 8 hour day, I'm doing a lot by myself and that sometimes gets hard. But, it's also just as hard to admit that you need help, or that you don't have it all together 100% of the time. Shew, girl that was a heavy one! LOL!!!
Can't wait to read anyone that is also linked up this week. If you've never joined in with Ashley's carnival ride go do it! It's so much fun and I've discovered so many blogs that way!!