Whoop Whoop! It's Sunday Social time over at Ashley's Carnival Ride and A Complete Waste of Make-up. Most definitely my favorite link-up. It gets my week going and I've discovered some amazing and wonderful blogs through this link. This week's questions do not disappoint and I can hardly wait to check out everyone's posts. So sit back and enjoy…and if so inclined pop on over and link yourself up.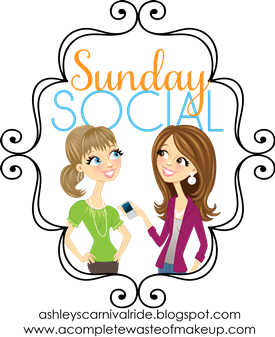 1. What do you miss most about being a kid?
I think the thing I probably miss the most is just the carefree-ness of it. Sure, being a kid, or a teen, had its hard parts. You weren't totally in charge of yourself, school and lots of other annoying things like not being able to eat cookies before dinner. But, I don't know if I actually miss it, so much as I just swoon over it. You know, the memories, the romanticism of it all. You just remember with fondness, at least I do. Lots of fun stuff.

2. Did you have a nickname growing up? What was it?
As a matter of fact I had several – Rheanna Banana, (Miss)Rhe and Anna Anna. The Anna Anna one is probably the sentimental favorite. It was given to be by one of the many surrogate grandparents I had growing up at the church we did. My grandparents had been there since practically the beginning, my dad grew up there…roots are deep. So the story goes that the reason he called me Anna Anna is that the beginning of my name is Re…as in repeat. I know, its so corny. But that's what memories are made up. My aunt that passed away always called me Rheanna Banana. All good memories too.

3. What was your favorite thing to do at recess?
Anyone else remember flipping around on the bars with your knee? Being able to do it forward and backward on one knee. That was soooooo cool, and for the life of me I'm not sure why? LOL
4. What did you want to be when you grew up?
I remember at one point wanting to be a ballerina….I think I wanted to be that for a long time…even as I grew up. A mom, was also something that I was known to have said.

5. What was your favorite toy?
I really was about barbies, and my little pony. There's a stuff giraffe that plays music that I still have, whose neck is broken from all the love (it uses to move around).

6. What is the funniest thing you did as a kid that your parents still remind you about?
I was kinda of clumbsy…which is funny because I danced…but spilling stuff, tripping….stuff like that. I don't know why but nothing is jumping to my head right now. LOL
Make sure to link up and/or check out all the wonderful blog linked up for this great hop!