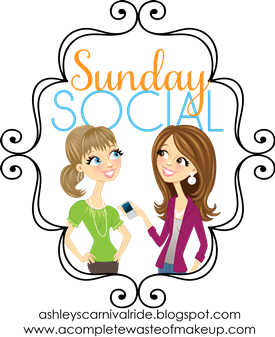 This week is a little different for the link-up! Eeeee!!! No real constraints or specific questions to answer? What's a blogger to do?
Instead of all that we are charged with telling you what we love about Fall? The question really should be what don't I love about Fall? I love so much about it, but this year I am more excited then ever. Why? Well, if you've read my blog, or any of my most recent posts you may or may not have heard me mention how super excited I am to be on the East Coast. Ever heard of "Leaf Peepers"? Yeah, I'm going to be one of those this year. Next year I promise to be one of those snobby East Coasters that is so incredibly bored with the leaves and rolls their eyes at all the annoying tourists that come and look at our leaves. But, until then I will soak up all the leaves I possibly can!!!
Another fabulous thing about fall is the clothes, so warm and snuggly, and layers!!! There's only so much you can peel off in the summer time and still be decent…and heaven knows I DO NOT possess a bikini bod, LOL. This year I'm on the hunt for the perfect fall boot. I've been on the hunt for THE perfect pair of boots; unsuccessfully, might I add. For some reason I seem to see these boots everywhere I go but can't even find them for myself. When I do happen to come upon some that are close to what I want they either look terrible on me or they cost a million dollars. I don't know what to do…but I will find them!!!!! If anyone has some good leads on some great boots let me know!
Until that day I will keep wearing my current love of fall shoe – my doc martin mary janes. I've always been in love with them, ever since I saw someone wear them in jr. high. They've never gone out of style. I saw someone wearing them in college and I made the confession to my hubs. What did I get for Christmas that year? My very own pair. *giggle* He said, "why didn't you just go them?" LOL! I have them in this wonderful brown color.
And now that you've all seen that I am a ridiculous shoe nut, I might as well mention the other thing on my list of things to get this year – some darling rain boots!
Fall is also about cute scarves and warm wool jackets, and all those other fun things that make you warm and toasty. Sitting by the fire, sipping hot chocolate and apple cider. Playing in the falling leaves, crisp afternoon walks with the kids, Halloween fun, and thanksgiving at Thanksgiving. We will be by ourselves for the first time ever, but I will have the hubby home for Thanksgiving so that will be a wonderful blessing!
and in a little shameless plug, I made the above hat and scarf and make them in my spare time! you can stop by the facebook page to check out some stuff in pics!
Happy Fall!!!