One of my goals this year is to become Fit Fluential….I mean, I can't ever actually imagine myself being as amazing as some of my fellow mommy bloggers that are my inspirations; but I'd like to think I can show how someone can go from nothing to something, with three kids and a husband that is frequently busy. It's really hard to find the time to work out; and I'm just so dang tired that at this point in my life getting up at 5:30 isn't something I can imagine myself doing. On top of all that its never been easy for me – losing weight that is. On the flip side of that I don't fluctuate much either. Before I had my kids, which are my main weight gain issues, my only other significant weight gain is when I quit dancing. To inspire myself and not get bored, which I find myself easily doing, I decided to pull out my phone and find myself some apps. I came across an app for Couch to 5K (more on that later – I'm such a tease). After I decided to give it a whirl, my immediate thought was, "what about the ladies?" I happen to be fairly well endowed, what can I say. This is one of the reasons why I don't even go there with running. The last time I ran was before I got married…so eight years ago?
The hubby suggested we head over to the BX and see what we could find. I was freaking out over what I would use? I mean, am I going to be doubling up here? Then the gates of heaven opened and Under Armour shown brightly before me. It was affordable too. The prices at the BX were amazing. The Under Armour maximum impact, compression bra is what I discovered. Locating it online hasn't been easy, but they have lots of other similar bras that look amazing. If you're military head over to your local BX and see what you can find.
I've been doing the couch to 5k here for a couple of weeks now, and I'm really excited and proud of myself. I would never have imagined myself doing it. Having done some P90X and not being in Reno, with its high elevation, is one of the reasons why I think I'm doing so well. Maybe I was just being too hard on myself before. I can't wait to keep updating you all on my journey this year.
check out some of these great links: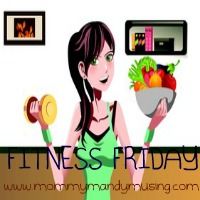 visit www.JillConyers.com for her Fitness Friday Link up!!
Have a Happy Weekend!!!