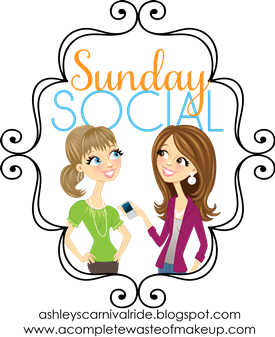 Happy Sunday everyone, although it is only a couple hours away from Monday for me. It's been quite the day, preparing for Mr. Air Force to return home to me after some time away. I'm especially looking forward to getting on with this month, since he will be taking some well deserved and much needed leave. Along with cleaning we had church and Awana. Its been quite a full day. My amazing friend and neighbor made some fabulous healthy comfort food for us tonight – some homemade chicken nuggets. I think I'll have to share that recipe with you guys this week.
Now on to the fun thanks to Ashley and Neely! Make sure to click the hop button up top and check it out for yourself, link up or just find some really cool blogs. I've found so many new and amazing ones through the hop.
1. Do you plan on changing any of your eating habits in the new year?
Not really, I do however what to not go crazy with soda this year. We'll see, its been an extremely stressful year so I blame that, LOL.
2. Any workout tips to get us back into shape after the New Year?
I have recently discovered the amazingness of IPhone apps. I've just recently started two – a couch to 5k app and a six weeks to fit arms app. so far I've been impressed with them both and myself. I'm hoping to review some later. Meanwhile, check out Apps Gone Free in the Apple Apps Store. Lots of stuff pops up there!
3. Whats the favorite thing you did over the holidays?
definitely our trip to the Gaylord Resort in The National Harbor. We attended some of their Christmas festivities and I was more than impressed and the kids love it.
4. What is something you hope to accomplish in 2013 that you did not in 2012?
well I'd like to actually meet my book challenge goal. I almost did last year, but the move and everything proved to much harder on me. I'd also like to get my volunteer work more organized and consistent, now that I feel I've got my barrings here.
5. Name 3 things happening this year you are excited about and why?
1. my volunteer work. I have so many ideas and plans! I'm extremely excited to see where it takes me.
2. Traveling – we've got some trips planned this year – New Jersey, Pennsylvania, and hopefully to see our families!
3. some kind of blogging conference. I'm not sure which one or two I will be going to this year, but I can't wait for whatever happens as far as that goes.