Happy Sunday Ya'll! Its my favorite time of the week – The Sunday Social with Ashley Lately and A Complete Waste of Make-Up. If you've never heard of this weekly blog-hop you're missing out. I've discovered so many wonderful blogs through it, and gotten to read some many great posts. I'm pretty sure I've got several new followers as well, which I'm so very grateful for. So, if you haven't checked it out read my questions for the day and then hop on over to the rest of blogs hosting, and participating. Thanks for stopping by!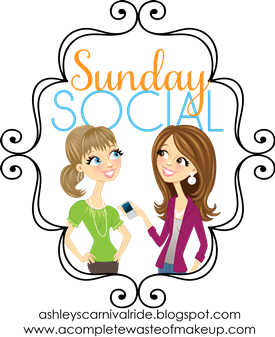 1. What is your ideal way to relax?
My ideal way to relax is either a nice spa pedicure or just simply to curl up in my room, with my blankie and a good book. sigh It's the simple things when you're mom of three crazy kids!
2. Where is your favorite place to be?
My favorite place to be is with my hubby – sounds silly but he's not around too much. If I had to pick somewhere else it would be Dillon Beach. I went there every year until we moved back east a year ago.
me with some of my small group girls during a retreat at Dillon Beach
I even did my maternity pictures there one year, with my now six year old
3. Who do you consider your biggest role model?
Gosh, I hate questions like these! My mom, several of my mommy friends with older children. People like Catherine Marshall and Elizabeth Elliot, gosh – so hard!
4. What does your life look like in 3 years?
I hope we are still back east, maybe further along in Christopher's career – maybe thinking of buying a home, depending on where his career is – maybe taking on a part time job, or one flexible with my children, considering my two oldest will be well into school and my youngest will be 4 1/2.
5. If you could go back and change one decision, what would it be?
Geez, I also hate questions like these. Most of the decisions I have made have led me here! I probably would choose not trusting people that I did. It only led to heartache and didn't really affect where I am in my current life. But there was good that came out of that awful situation. I now have three extremely close girlfriends that have lifted me up, encouraged me and believe in me 100%. I would just be lost without them in my life. They know who they are 🙂
6. What is your biggest accomplishment in life so far?