Happy Sunday ya'll…..I missed a week or two of this little hop, and I kind of missed it! If you're visiting me again, THANK YOU THANK YOU THANK YOU!!! If you're stopping by for the first time….THANK YOU THANK YOU THANK YOU!! Come back on Thursday for my super cool blog hop….Rewing 365. It's a little hop all about where you were a year ago that day. I love it. It's so much fun. There's a button on the right! Can't wait to read all your blogs.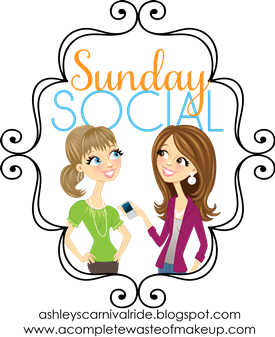 Thanks to the hosts – Ashely and Neely
1. What is the best Valentine's Day you've ever had?
That's a hard one, but I think one of my most favorite's was when my hubby (then he was my boyfriend) took me to the hard rock cafe' (which sad to say isn't there anymore) and then we went to meet my mom and her best friend at this old theater in the downtown area and watched "All About Eve" on the big screen. Its an old black and white, Bette Davis movie. I mean, what teenage boy would take his girlfriend to see that?! Well, one that I would still be with like 14 years later or something.
2. What is the worst Valentine's Day you've ever had?
I don't know that i can specifically think of one that was the worst…..I mean, there's been a few times the hubby has been gone, but he's a master date planner (I think he should teach a class or something). So when we are together he does a really great job.
3. What did you do for Valentine's this year?
We went to Ruth Chris' (never been, very impressed) and Bon Jovi…yup Bon Jovi!! major freak out moment here! I'm a product of my childhood and my mom and and raised me on 80s area rock…so there you go. I've seen Def Leppard twice! My first concert was when I was seriously like 8 months old, at an outdoor area…I saw Kansas 🙂 LOL!
4. What is your best Valentine's idea if you're single?
I think that I would get some girlfriend's together, go out, get some drinks, see a movie….I've done that when the hubby's gone before. The best thing you can do, in my opinion, is go out and have fun and stop thinking about it 🙂
5. What is your favorite Valentine's candy?
Reece's Peanut Butter Cups – heart shaped of course 🙂
6. Favorite Valentine's memory from your childhood?
Wow, this is a great question, but I seriously don't know that I have one? I can't wait to read people's answers if they do.