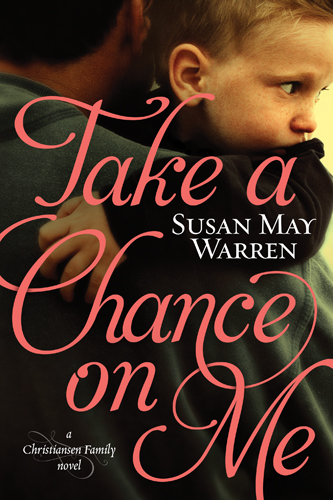 Summary:
Darek Christiansen is almost a dream bachelor—oldest son in the large Christiansen clan, heir to their historic Evergreen Lake Resort, and doting father. But he's also wounded and angry since the tragic death of his wife, Felicity. No woman in Deep Haven dares come near.
New assistant county attorney Ivy Madison simply doesn't know any better when she bids on Darek at the charity auction. Nor does she know that when she crafted a plea bargain three years ago to keep Jensen Atwood out of jail and in Deep Haven fulfilling community service, she was releasing the man responsible for Felicity's death. All Ivy knows is that the Christiansens feel like the family she's always longed for. And once she gets past Darek's tough exterior, she finds a man she could spend the rest of her life with. Which scares her almost as much as Darek learning of her involvement in his wife's case.
Caught between new love and old grudges, Darek must decide if he can set aside the past for a future with Ivy—a future more and more at risk as an approaching wildfire threatens to wipe out the Christiansen resort and Deep Haven itself.
**Read the first chapter of Take A Chance on Me, here
Author Q & A:
1. This is the first installment in a brand new six book series. Can you give us a bit of background on this series?
I love stories about families, watching the members interact and grow together through challenges and victories and I conceived this series as I watched my own children begin to grow up and deal with romance and career and futures. I love Deep Haven, and it's the perfect setting for a resort, so I crafted a family, much like the families I know, who run a resort. They want to pass on their legacy to their children…but their children don't know if they want it. It's sort of a parallel theme to the legacy of faith we instill in our children. As they grow older, they need to decide whether it is their faith too. It's a saga about family and faith and what happens when those collide with real life.
2. This Christiansen Family series is set in Deep Haven, Minnesota. Tell us about this setting.
Deep Haven, Minnesota is based in a small vacation town in northern Minnesota where I spent my childhood. It's located on Lake Superior, surrounded by pine and birch and the sense of small town and home. Populated by everyone from artists to lumberjacks, it's Mitford, or perhaps Northern Exposure gone Minnesotan. Quaint, quirky and beautiful, it's the perfect place to escape for a vacation
.
What I Thought:
Take A Chance on Me was not what I expected when I started reading it. After doing so many reviews of Christian novels I was beginning to notice a pattern among them. I didn't feel as challenged by the reading perse. The stories seemed to be lost in the attempt to portray God and the reasons to have faith in Him, or seek out a relationship with Him. The characters and what they were going through seemed to be secondary to the faith parts of the book. There have obviously been exceptions to this, but as someone who considered herself to be absolutely obsessed with books, I wasn't finding satisfaction in the stories. All that being said, let me take a second to praise Susan Warren's book! The characters were wonderful, deep, complex and relatable. The story was also all of those things. There was real emotion of love, anger, hatred, all honestly laid out, which I had found to be a unique trait in this genre of novel. All of those involved in the book with real and they made mistakes. They didn't claim to be perfect and they weren't trying to be. That's what I loved, loved, loved about this book.
5 out 5 Stars
I received this book in partnership with the Tyndale Blogging Network, in exchange for my honest review. I was not compensated in any other way.