Well, I can say with absolutely certainity that Sunday has really become my favorite blogging day. This week has been one of the roughest in a long time, and I just haven't felt like putting anything out there, and didn't think anything would have been good to put out there. But I feel like I'm almost over the hump (fingers crossed) and writing up a Sunday Social couldn't hurt. Thanks Ashley and Neely for another great link up. Make sure to check out those girls.
Some quick housekeeping around here. I've got a new blog design that will be unveiled soon and I'm super excited about it. In fact, I'm tingling with excitement! I was also just nominated for a Top Military Mom Blog by Circle of Moms. First time I've been nominated so I'm super excited. If you think I'm pretty awesome I'd love the vote. Or check out the other amazing blogs nominated because there are a lot. There's a voting button on the left under the blog button. Thanks so much. And I'm not afraid to beg so, I'd super de duper with a cherry on top, love for you to think me awesome enough to follow. And I will definitely return the favor! Now onto the fun.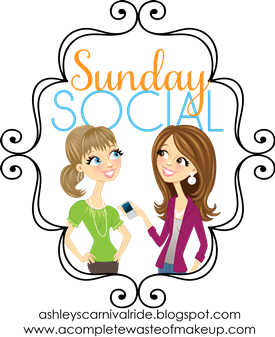 I don't know how it could be more fun then last week because we spent the day discussing my fav love – PURSES!! But, this week's link-up is pretty darn awesome. And after filling it out I have to say that I am one lucky girl.
1. What is your dream job?
If I was totally honest and didn't reply MOM (because really it was my dream to one day afford the luxury of being a stay at home mom and not be destitude. Thank you to my fab hubby for making that dream come true when we were so young)…..I would have to reply Parole/Probation Sentence Recommendation. It is probably the best mix-up of all the Criminal Justice jobs. You get to do a lot of investigating, be involved in the court system and the prison system. It something one day I'd really hope to do.
Me and my BFF and fellow CJ major with my first son in 2006
2. If you won the lottery and didn't need to work, how would you spend your time?
I would spend my time doing much of the same that I am now, although I think I would volunteer more because I could afford a babysitter more often then I can now. I would definitely also spend more time traveling and visiting anything and everything historical that we have to wait, plan and budget for now.
Me and the hubbs visting a Slave Cemetary in West Virginia in 2005
3. When You were a kid what did you want to be?
I'm pretty sure it was dancer/ballerina. And I've got to say that I did pretty good in that category too..partially anyway. I was able to dance en Pointe for years, be a part of a Youth Ballet Company, dancing in Cinderella, Alice in Wonderland and Sleeping Beauty. I even spent a couple years teaching and received awards for my choreography. So,even though I may not have made it to the big times, I accomplished all that before I was 20.
Me at 17
Me at 4
4. What kind of career advice would you give someone just starting out in your field?
for Mom I would say – don't listen to the drama and don't get caught up in comparisons. You are valuable, you are contributing to society…and no matter how many people think you might be lazy, and just laying around eating bon bons and baking pies all day – we SAHM's know the truth
for dancer I would say, stick with your passion and make it work for you. I so desired the ability to make it,but the dance world doesn't care if you have the perfect feet and legs if you don't also have the perfect size boobs – which is none. So find a way to make it happen for you. Choreography was my way.
for Criminal Justice – work hard, do the right thing and be fair and just.
5. What are your biggest pet peeves in life, blogging and work?
Drama, drama drama! You can't escape it becaue there is someone that loves it, everywhere! Surround yourself with amazing and wonderful people and you will be sure to either avoid it, or recover from it much faster.
6. What are your biggest fears?
Well one of them is really what do I do when all the kids are in school? How do I break back in the "world" so to speak? Sigh….I dunno yet. Failing my children, losing my husband and most heights 😉
Me and the hubbs in 2002
My first two munchkins in 2008
SEE YA NEXT WEEK!