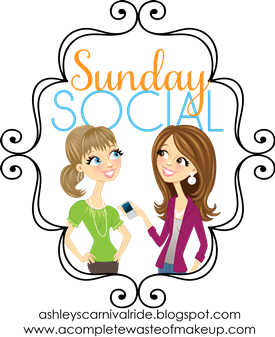 Happy Sunday Ya'll! A whole week has flown by again. Mr. Air Force has been back to work, after some much needed leave time. The time he's been back to

work

has gone by fast, which is great. Little craziness has ensued, however the first day was a little rough. I was majorly spoiled…but it was like 6 years of pent up needing him around for an extended period of time. So happy! Hoping a new frame of mind is coming after this little mini-reset. If you're are looking for a fun, and super cute V-DAY gift, check out the my review for SHMILY coins!

Super Cute!
Now, onto the fun. If you hav

en't done a Sunday Social you really should!
1. If you were stuck on an island what are the two material items you would want to have?
That's rough. I've never good at this question, like seriously never. I feel like if I had a tv and an endless supply of sweet tea it would be amazing. However, having my Bible around would probably really help me during the rough spots of being stuck on an island. Maybe some lip gloss too? See, I told you I was terrible at this game, LOL!
2. What are two TV shows you'd watch over and over
Seinfeld and Gilmore Girls….I can't really ever get enough, and I currently watch them over and over and OVER again!
3. If your house was on fire what two things aside from family, pets, etc would you grab?
Well since I have an Eagle Scout and Military man for a husband we have one of those fabulous fire safes so all pictures and stuff would be well protected. I would probably grab my jewelry box and my Christening dress I have displayed.
4. What are your two most favorite articles of clothing?
Currently my grey boyfriend sweater and my Old Navy ACTIVE compression pants, so lame right?
5. What two movies that you saw in the past year would you recommend to us?
Hands down Argo and Lincoln! I'm so mad that Argo is getting the snub from the Academy Awards…you can't have too many pro-CIA movies in one year right; and Zero Dark Thirty is way cooler. I was so happy when Argo won at the Golden Globes. We usually rate movies on whether or not we would own them. There are very few movies that make that list these days. Both of these movies do.
6. What are your two biggest guilty pleasures?
Currently they are Dove Chocolate hearts and Pepsi. I've been working out and watching what I eat, but every now and then I cave compeltely!! I try not to deprive myself because that can only lead to bad things
Thanks for stopping by! Have a great Sunday!!